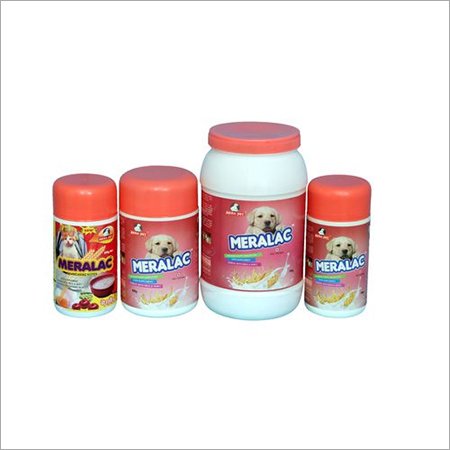 Price And Quantity
20 Pack

339.00 - 369.00 INR/Pack
Trade Information
AHMEDABAD

4000 Pack Per Month

10 Days

Yes

30 x 175 g; 20 x 300 g packs with 10 g measuring spoon inside

All India
Product Description
Puppy Weaning Food
Meralac Puppy is feed supplement for dogs which plays an important role in assuring healthy growth & metabolism. It is an excellent source of protein, vitamins, minerals, carbohydrates, and amino acids that boost immune system of dogs. This feed is easily digestible in nature and helps in strengthening bones & teeth. It maintains healthy digestive tract and good energy level throughout the day. Meralac Puppy is given by mixing in lukewarm water as suggested by professionals.
Features:
Ideal for most breeds
Provides resistance to various diseases
Keeps puppies happy

Palatable Weaning Puppy Complete Food Supplement India's First & Trusted since 2002

Benefits :

Easily Digestible -has highly digestible protein
Soothing to pup's stomach
Does not upset puppy's tummy
Highly palatable across breeds
Made of quality ingredients ensuring optimum growth and steady pace helping puppies accommodate normal bone and cartilage development
Can be given to even 12 days old pups without any indigestion problem
Composition :

Is based on National Research Council (N.R.C.), U.S.A. for pup's complete nutrition.

Protein (16%)
Lipid (13%)
Carbohydrate (62%)
Ash(4%)
Minerals ( Ca, P, Na, K,, Cl. Mg, Cu, Zn, Fe, Mn, I, Co, Se, trace elements)
Vitamins A,D3,E, K, B1, B2, B6, B12, Niacin, Folic & Pantothenic acids, choline, Biotin)
Amino Acids (Lysine, Methionine, Cysteine, Taurine)
Total Energy per 100 g. (459 K Cal.)

When/Why used :

As a Complete Weaning Food Supplement for Puppy
Pregnancy and Lactating stages of Bitch
During Sickness and Convalescence
Diarrhoeal cases for nutritional support
Dosage:


Age

Quality Per Serving

No. of Servings Per Day

(Weeks)

MERALAC (g)

Water (Lukewarm)

------

Till 4

10-20g

30-60g

4-5

4 to 8-10

20-40g

60-120g

3-4

Above 8 to 10

40-80g

120-240g

2-3

Administration: Given orally as Paste, prepared with lukewarm water ( Meralac Powder & lukewarm Water in 1:3 Ratio)

Presentation: 175, 300 g HDPE jars with 10 g measuring spoon inside
Get in touch with us